Product News
Introducing DEENO's Fast Charging Power Station: The Ultimate Portable Power Solution
DEENO is a leading manufacturer in the portable power supply industry, renowned for their innovative and reliable clean energy solutions. With a commitment to meeting the evolving needs of customers, DEENO has developed the S1500 Fast Charging Power Station—a game-changer in the world of portable power.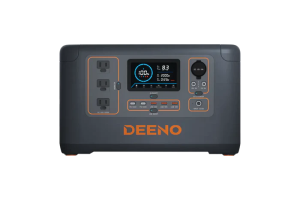 Large Capacity, High Power for Smooth Operation
The Deeno S1500 Fast Charging Power Station boasts impressive specifications, featuring a 1036Wh capacity and 1500W high power output. With a surge power capability of 3000W, this power station ensures the smooth operation of most home appliances, providing a reliable source of power wherever you go.
Versatile Charging Options and Intelligent Features
DEENO S1500 provides the convenience of powering up to 12 devices simultaneously. With its 3 AC outlets, 3 USB-A ports, 2 USB-C ports, 2 DC outlets, car charging port, and wireless pad, it offers versatile charging options to suit various devices.
Moreover, the power station is equipped with UPS intelligent switching. When connected to the main AC power, it automatically generates power for electrical appliances during sudden power outages, ensuring uninterrupted operation.
Conclusion
DEENO's S1500 Fast Charging Power Station combines advanced technology, exceptional performance, and intelligent features to deliver an unparalleled portable power solution. With its fast AC charging capability, support for various charging methods such as solar, car, and generator, and a long service life managed by DiBMS, it guarantees a reliable and safe power source in any situation. Additionally, the user-friendly LCD screen, hidden handles for easy transport, and intelligent muting feature further enhance the overall experience. Whether for outdoor adventures, emergency backup power, or everyday use, the DEENO S1500 Fast Charging Power Station provides the convenience and peace of mind you need. Embrace the future of portable power with DEENO. What's more, as the Thanksgiving Day approaches, DEENO extends heartfelt gratitude to its global clientele for their unwavering support and trust.